In observance of the July 4th holiday, we will be closed on Friday, July 3rd, 2020.
Effective March 23rd, we will take transctions through the drive thru only (due to COVID-19)
For all other services please call us for assistance at 901-358-3796
We appreciate your understanding as we work to serve you safely.

To report a lost or stolen...

Debit Card : Call 1-800-383-8000
Credit Card : Call 1-800-543-5073
**** NOTE: AUTOMATED SERVICES FOR PHONE BANKING ****
Our two designated phone lines allow our account holders with 24/7 phone access to their accounts providing: Balance Information and access to various account transactions and transfer options.
AUTOMATED RESPONSE LINE NUMBER:
(901) 358-8306 or (901) 358-8317
---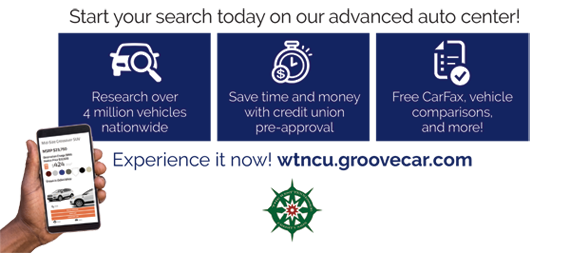 ---
BECOME A MEMBER

It's easy to become a member of our credit union, and the benefits are worth it!

LEARN MORE

---

FRAUDULENT CALL WARNING

We will never call and ask you to verify your account information over the phone.

If you receive a call where you are asked to give your personal information, it is a fraudulent call!

---


DEALS ON WHEELS

Need a new car?
Call today to apply for a loan!

(901) 358-3796

---